Pet Friendly Rooms

Bring your favorite dog along on your next visit to Adair and relax in one of our pet-friendly rooms! You'll find plenty of pet-friendly things to do in the White Mountains.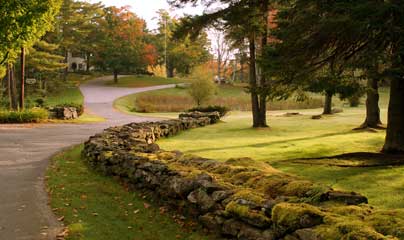 The Inn's 200 Acres of scenic grounds include walking trails for both our two and four legged guests with colorful gardens designed by the Olmsted Brothers (sons of the man who designed New York City's Central Park) providing an atmosphere of quiet splendor. From its long drive bordered by stately pines, gleaming white birch trees and stone walls to its picturesque setting on a knoll with spectacular views of the White Mountains, Adair is one of New England's most renowned country inns.
Adair Features Four Pet Friendly Rooms
The Crawford Suite: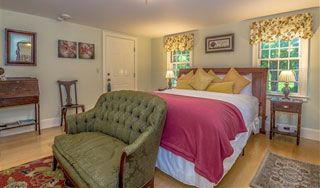 Main floor suite with outside entrance, California King feather bed, smart TV, corner fireplace, private treehouse balcony with views to the Dalton Mountain Range, fenced in side yard, sitting area, private bath with a 2 person jetted tub and a separate walk in shower. Views North, South and West to mountains, ponds and gardens.
The Franconia Suite: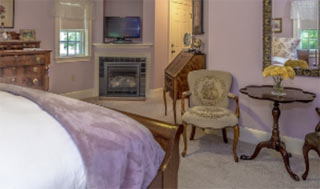 Spacious suite on the second floor with King feather bed, smart TV, refrigerator, corner fireplace, private balcony with views to the Dalton Mountain Range, sitting area, private bath with large 2 person jetted tub and separate walk in shower. Views North, South and West to mountains, ponds and gardens. A very romantic room!
The Kinsman Suite: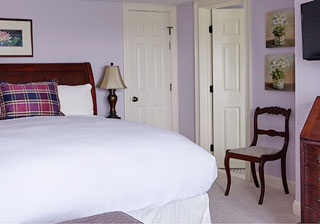 suite with french doors leading to a private balcony with views of the Dalton Mountain Range, a California King feather bed, smart TV, fireplace, and a private bath with 2 person jetted tub and rain shower.
The Sinclair Suite: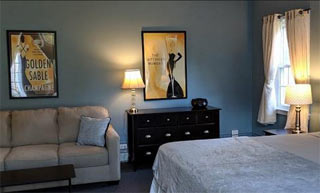 This spacious suite is located on the main floor in the 1811 House, situated along the tree lined driveway leading to the main Inn...only a short stroll away. This bright and airy king bedded suite features cathedral ceilings, french doors opening to a private patio and a sitting area with fireplace, pull out sofa bed, refrigerator, and espresso machine. The bathroom is roomy with two separate vanities and jacuzzi tub/shower combo.
Our Pet Friendly Lodging includes:
Plenty of Walking Trails with easy in/out access
Private Dog Bowls
Pets are allowed for an additional pet fee per room of $35/night per pet. Call 603-444-2600 for more details
Shop • Eat • Explore & Doggie Day Care
Along with our walking trails and pet-friendly rooms, when you visit Adair with your favorite canine companion take Bruno or Matilda along and explore the area. Most places you'll visit require you to leash your pet.
Shop
Tailswag, a pet boutique in downtown Littleton welcomes pets and their people. The shop stocks lots of items for your favorite pup including toys, leashes, apparel, beds and blankets and lots of treats. Check out the nifty apparel, accessories and home décor for humans, too. 21 Mill Street, Littleton.
Littleton's Main, Cottage and Mill Streets are all very walkable, and it's fun to be able to stroll along and browse with your pup on her leash. Some downtown stores are dog friendly and even have water bowls outside their doors. Check out the town's covered bridge and walking trail just off Mill Street that wends along the Ammonoosuc River. The Pollyanna statue on the Littleton Library lawn is a great photo op stop for you and your pooch.
Eat
Take your pup along to keep you company at Rek'•lis Brewing Company on Bethlehem's Main Street. Enjoy a Rek'•lis brew, wine or cocktail, accompanied by an appetizer, salad, sandwich, burger or other menu item. The casual dining options include porch and garden tables and limited indoor seating. Dogs are welcome at one of the pet-friendly outdoor tables.
You can snag an outdoor table on the patio at the Little Grille at the Depot on Cottage Street in Littleton where the staff loves to serve humans accompanied by their "fur babies." Menu options include sandwiches, burgers, salads, seafood, steak and Mexican favorites like burritos, fajitas and tacos. A house specialty is Camila's Famous Brazilian Burger.
Explore
Dogs are welcome to tramp most trails in the White Mountain National Forest with their humans, but they must be leashed in developed areas like parking lots, picnic areas and on developed trails.
Pets are welcome at the summit of New England's highest peak. Hike or drive to the top of Mount Washington for magnificent views and take lots of pics of your favorite canine companion. Pets must be leashed and are not allowed in the summit buildings.
White Mountain Attractions lists pet friendly attractions. If the attraction's website doesn't clearly state it is pet friendly, give them a call before arriving with your dog.
Doggie Day Care
The staff at K9 Fun Town in Twin Mountain will care for and pamper your pet when you're planning a day or more out and it isn't feasible to bring along your canine companion. Services include day, night and extended stay visits and grooming.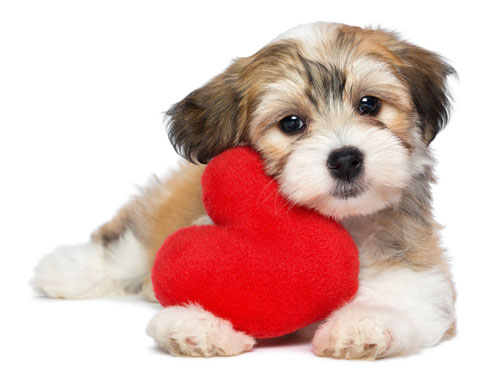 Proud to be Yankee's New England Today Travel Editor's Choice for Best NH Romantic Getaway!