Riding the Notches: Franconia Notch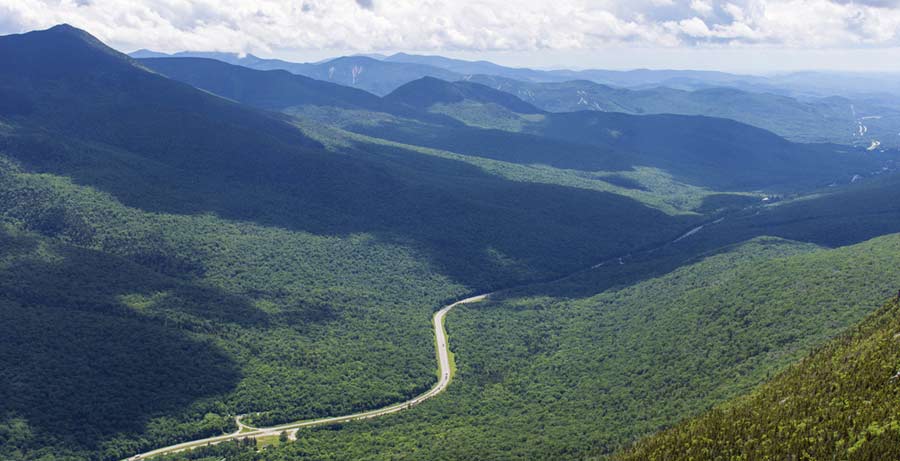 As we drove our way up I-93 my mother told me of her first experience in New Hampshire. She was 16 years old, the year was 1958, and she was to spend the summer in North Woodstock.
Her most vivid memory was of traveling through Franconia Notch and watching the early morning fog roll off Cannon Cliff to reveal the Old Man of the Mountain. As we got closer the mountains went from far away to exploding right out of the car window. My neck was sore from rubbernecking in every direction. As we rounded the last curve, there it loomed. Franconia Notch and all the granite an eye can see.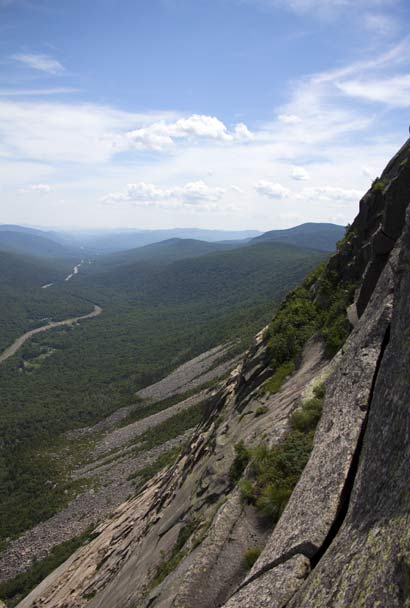 Profile Ledge
All I could do was strain my 10-year-old eyes staring at the cliff and looking for the Old Man of the Mountain. My mother giggled knowing that the profile was nearly invisible from southern aspects and could only be viewed from the north. We passed Boise Rock, and as we rounded Profile Lake, I wrenched my neck around and there it was, the Stone Face. My mother put her hand on my shoulder and quoted Daniel Webster, "...but up in the Mountains of New Hampshire, God Almighty has hung out a sign to show that there He makes men."
I have lived around Franconia Notch for 27 years. I have climbed, skied, hiked and biked all throughout this gorgeous notch, but my first time was riding through with my mom and it influenced me in ways I would have never imagined.
Franconia Notch is a gateway for all travel into the White Mountains. The terrain is raw, yet appealing. The views are ancient and awe inspiring. It is the state's most accessible notch and has more amenities than any other. Visitors can enjoy skiing, swimming, biking, climbing, hiking and waterfalls, along with attractions like the Old Man of the Mountain Profile Plaza, New England Ski Museum, Governor Gallen Memorial Bridge, Echo Lake State Park at Echo Beach, the Flume Gorge and the Cannon Mountain Aerial Tramway.
Franconia Notch still takes my breath away and I always recommend it as a must-ride-through notch for anyone visiting our great state, for both its dramatic landscape and easy access to so many activities.
- Stacey Rachdorf, Innkeeper